"Watching Vixen completely cover herself in clay is a real treat!"
delete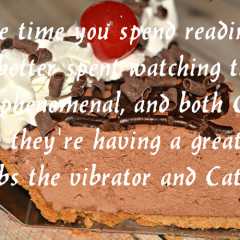 WritesNaughtyReviews
5/7/16
Really hot, and I absolutely recommend it to any fans of the actual coverage process. Vixen is crazy hot, and she starts off topless, which I completely approve of. She steps into the mud and plays around for a bit, but the action really begins in earnest when she leans back and the pouring starts. She takes a huge bucket of the soft, thick clay over her head, lets it flow luxuriously over her amazing tits, and rubs it into her hair. The clay has a perfect creamy consistency, and there is a very nice slow motion replay of the pour itself. Vixen spends most of the rest of the video rolling around in the clay, grinding down into it, and having a very good time. I'm very happy that I have this in my collection, and I'd absolutely recommend that you add it to yours too.

Report