"Don't read this review. Get the video instead. Trust me."
delete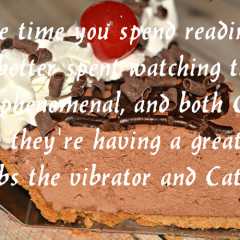 WritesNaughtyReviews
5/7/16
Get this video. Seriously. The rest of my review will just be me rambling about how awesome it is. So stop reading these words and get the video. Watch it. You'll be amazed, you'll cum enough to fill several buckets, and your world will be a better place as a result. You don't believe me? Really? Ok, I'll elaborate. Athena is gorgeous, and she looks the part of a goddess playing with herself in the clay. She struggles in the thick, deep mud pool for a few minutes, then settles down and massages it deep into her pussy. The noises that she made alone were almost enough to get me off. She takes her time and has a lot of beautiful fun, then she reaches for the dildo. That's what did it for me. When she slid the dildo between her legs and teased it between her soft, clay-coated lips, my cock hit a solid 9.5 on the Mohs scale. I wasn't far from changing my username to DiamondDick. Even that wasn't the pinnacle of the mind-shattering sexual power that Athena brought to bear as the show went on. When she climbed to the edge of the pool, straddled the dildo like a throne, and drove it deep inside herself, I couldn't take it anymore. As the camera lovingly zoomed in on her sweet nectar mixing with the creamy clay on the toy while it slid in and out of her, my cock enthusiastically answered the call and erupted forth against any orders from my head. Since I was resolved to watch the entire video so that I could write this review, I tried to stop it, but to no avail. I needed a new pair of boxers. Are you really still reading this? Stop! Get the video! You know what, if you've gotten this far and you haven't either seen the video, or have it downloading as you read, then I give up. You have no pulse, and I suspect that you may be a zombie who has somehow learned to use a computer. I'm done. I'm going to go watch the video again.

Report